It's a guest post today from Emily at Two Purple Couches!  Thank you so much Emily for this lovely post on holiday table décor. I adore Emily's lifestyle, home and DIY blog ,Two Purple Couches, so I asked her if she would write a holiday table décor post for Karista's Kitchen.  She so graciously obliged. I know you will enjoy it as much as I have.
————————————————————————————————————-
First off, I would like to say hello and introduce myself! My name is Emily and I blog at Two Purple Couches. I'm a color-loving girl who married a neutral-loving guy. Together, we're learning the ins and outs of decorating and DIY as we put our own stamp on our home.
I am so honored and excited that Karista invited me to guest post here today, and we're doing something a little different! As you may have guessed by now, I am not here to share a recipe, but some holiday home decorating ideas! I will be showing you how to create a beautiful table setting to host your holiday dinners! And if you head over to my blog, Karista is sharing a few delicious appetizers, perfect for serving to your holiday guests!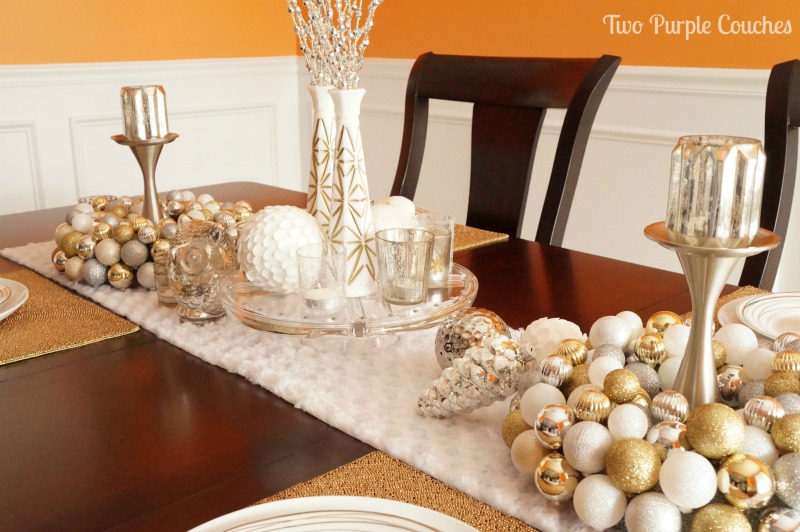 Today I'm sharing a holiday tablescape, a look that I am confident you can recreate your own way! When I begin decorating my table for any holiday, I always look for simple elements that will make a stunning impression. And one of my favorite ways to do this is by using what I like to call "flashy neutrals", meaning whites, silvers and golds with lots of sparkle and shine. Flashy neutrals are especially perfect for this time of the year, because they can easily carry your decor from Thanksgiving through New Year's Eve!
Let's start with the base for my table decorations: the runner and placemats. For the table runner, I wanted something with great texture. A piece of faux fur from the fabric store was the perfect touch, and maybe a bit unexpected! I paired this furry runner with sparkly gold beaded chargers and simple white porcelain plates. The salad plates have a hint of silver and gold around the edges, perfect for tying in with the flashy neutrals in my tablescape!
Now I'll share how I pulled the centerpiece together. I find that breaking the length of my table into thirds works best for me, so the center section is flanked on either side by decor that mirrors each other in some way.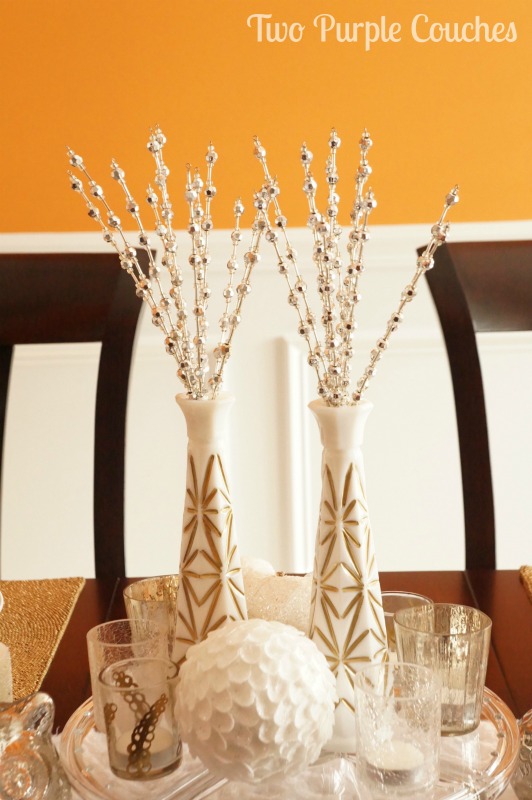 For the centerpiece of my table, I focused mostly on creating it with candles: candlesticks, pillar holders, votives, tea lights, etc, all in varieties of clear glass, gilded glass, mercury glass and milk glass.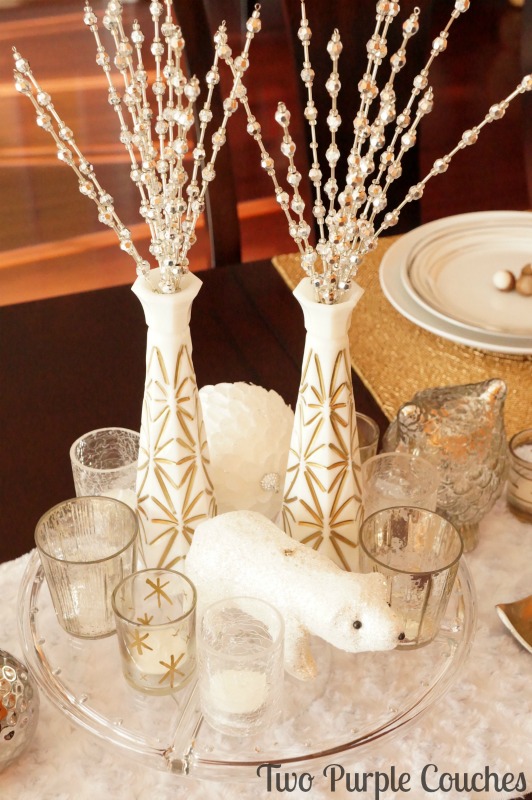 I began by propping two gilded milk glass vases and a collection of votives on top of a clear cake plate. I added the white scalloped ornament and polar bear for some extra sparkle.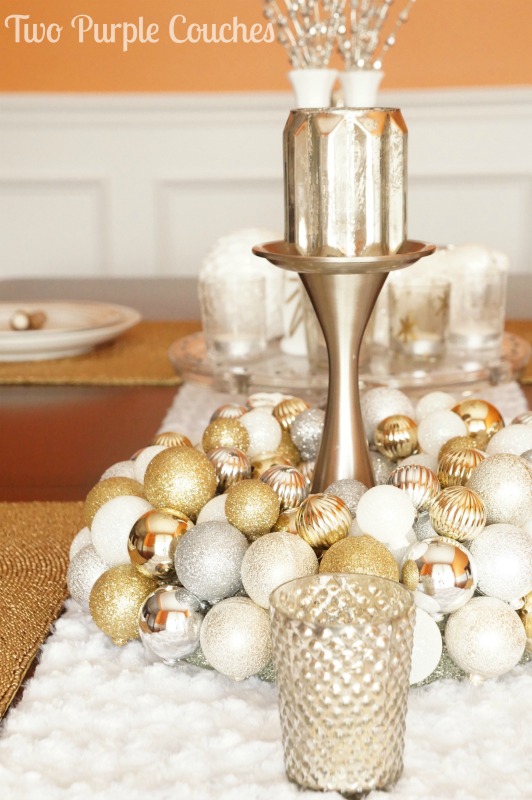 I anchored each end of the table with my ornament wreaths (if you'd like to learn how to DIY your own, see my tutorial post here), placed a silver pillar holder in the center of each one, and topped them with mercury glass votives.
When my candles were all arranged, I filled in the gaps with other glittery things: mercury glass ornaments, decor and accessories.
I hope you've enjoyed my holiday tablescape! And I hope you'll join me over at Two Purple Couches for more holiday decorating and DIY ideas!